Breeders from the Republic of Ireland should send all Requests for Service, consultations and payments for PRE Stud Book services directly to the Main Purebred Spanish Horse Stud Book office in Spain instead of going through the BAPSH (The British Association for the Purebred Spanish Horse Ltd). Should you have already sent a request for service to the BAPSH that has not yet been finalized, please inform the main PRE Stud Book offices so that we can coordinate with them.
The full postal address of the Main Purebred Spanish Horse Stud Book Office in Spain is: 
Libro Genealógico del PRE ANCCE (International Department)
Edificio Indotorre
Avda. del Reino Unido, 11. Pl.3ª – Mod.2
41012 – Sevilla, Spain
Tel: +34 954 975 480/+34 648 094 310
Fax: +34 954 953 989 - +34 954 975 458
The fees for the various services are as indicated below: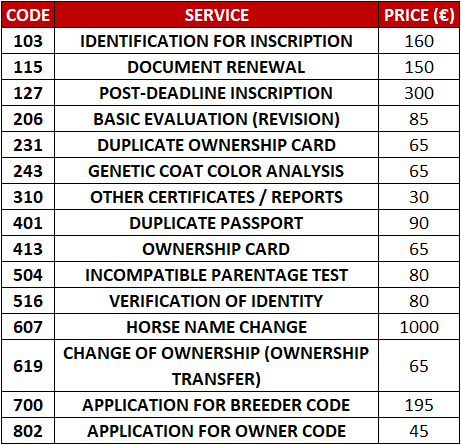 All payments are made using the APP or the LG PRE Stud Book web site, where you may use your credit card or PayPal. Be sure to include your breeder code.
Go to www.lgancce.com. First, click on the flag for English.
Go to MAKE PAYMENTS.
When in doubt, there is a help file in English (Stud Farm with International Breeder Code).
Click on PAYMENTS FOR BREEDERS, enter your breeder code and select the type of service and number of horses. The amount due is calculated automatically.
Fill in the blanks step by step as the program ask for data.